CHAMBER MUSIC & RECITAL SERIES
The international, multi-cultural character of the Tenri Cultural Institute has led us to undertake performing arts programs in several areas. With regard to western traditional performances the nature of the New York based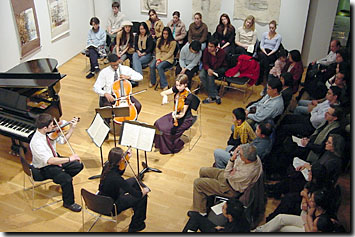 Tenri Cultural Institute, a multi-national cultural organization, has led us to design musical programs which combine both global and local characteristics.First of all, we are organizing a series of chamber music concerts featuring young artists who are graduates or about to be graduates of The Juilliard School or Manhattan School of Music. These young and profoundly gifted musicians whose cultures, religions and nationalities have sent them to us from every corner of the globe are joining together to form chamber ensembles and to play recitals. Our purpose is to afford these artists a public venue for high profile concerts at minimal costs and to afford the Greenwich Village neighborhood an opportunity to witness and enjoy the fruits of their talents. Admission will be by donation to the Tenri Cultural Institute.
Another purpose we hold is to present those artists whose careers may be already developed in an appropriate venue for musical performances in the Greenwich Village area. Our extensive and tasteful facilities allow us to extend our services as a performing arts venue for recitals, and chamber music to "name" artists. These artists continue to use our performance space to further their careers.
A final purpose is to use our lovely concert hall and teaching facilities for seminars and master classes. Three day and week long seminars and mini-festivals are planned for the summer months. Albert Lotto, who holds a Doctor of Musical Arts from The Juilliard School is our musical director for performances of western traditional music.
For more information, click upcoming events!