The Light of Reason:

Hyunjoo Park
May 16-30, 2016
Opening Reception: Monday May 16, 6-8 PM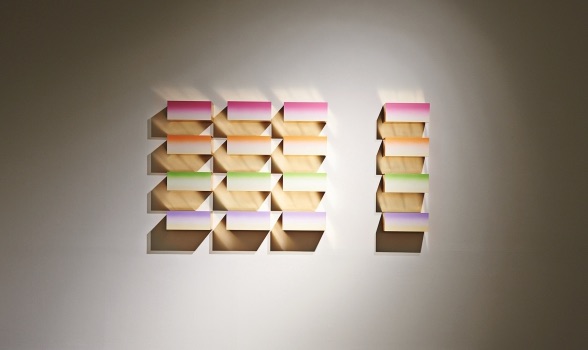 Park's images have to do with light, so her critics tell us. But they can also discussed in terms of the post-minimalist aesthetic that in its pure form interacts with the viewer. Park's pieces are site-specific incorporating the gallery space within her them. The shadows caused when installing the boxlike pieces on the white walls, create secondary patterns. In fact, the shadows in No. 8, appear to be solid and discrete pieces in themselves added to the rectangular sculptures. This results in a figure ground ambiguity that can be discussed in terms of Gestalt psychology that shows us the way we as humans group parts in order to understand them and the way we separate solid and void whose reading has to do with the law of simplicity. By keeping her volumes to the simplest possible geometric forms Park engages in the interplay not only of solid and void but also in 2 and 3 dimensional space. Echoes of Victor Vasarely's Op-Art seems to be making their way into Hyunjoo's works too. Vasarely, the father of this style through his 1960s and 70s work influenced a whole generation of artists continuing his kinetic visual experiments and transforming the flat surface into endless possibilities.

In continuing this track Park's work like Vasarely's 50s pieces and statements, also has a technological element to it. She sprays rectangular or circular pieces with the paint gun thus creating with mechanical means while referencing the idea of light through her use of nuanced color shading. In his efforts to bring art within everyone's reach Vasarely used new technologies and in his statements predicted an art that could be projected anywhere in the world within two days thereby removing the work's aura or singular authority. Park's modular pieces speak to the idea of reproduction in the mechanical age that recalls the words of Walter Benjamin who wrote about the work's aura in his "The Work of Art in the Age of Mechanical Reproduction." He stated that "when the mysticism of originality is removed, everyone can enjoy art." This tendency was also present in Duchamp's unconventional and unprecedented Readymades that moved the importance of the artwork from the object itself to the idea of the artist. Like Duchamp, Park provokes the viewer to think by questioning the most basic values of conventional artmaking.

Post-minimalism is process oriented art with site specific aspects and can be varied or continue the minimalist interest in abstraction and mechanically based art. As seen by her Light and Monad series, of 2015 and in their modular nature, Park's sculptures fit into this vein. But, Park activates another idea as well, one that has personal meaning, one that she describes best in her own words "I wonder what we get out of such an incomplete and ambiguous grind that we call life .... Then finally I realized that by the work I do - that is, tracing light on canvas - I was actually in the process of finding myself."