Dream Weaver:
Yukiko Yokoyama
April 13 - April 19, 2016
Opening reception Thursday April 14, 6:00pm

Please click on the images to enlarge and double-click it to minimize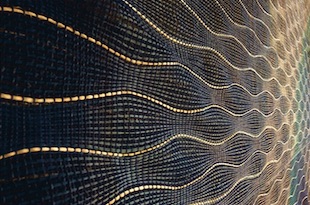 A common Textile dyeing process is dyeing the fabric once it is already woven but Yokoyama's technique is different. She starts by dyeing the thread and then uses the dyed threads to make textiles. She dyes all the threads by hand, using both organic and chemical dyes. For dresses that touch the skin, she uses organic dye and for tapestries, she uses chemical dye to express with more dynamic color variation.

About her waving technique, Yoroke is her most unique one. Using a warp with Yoroke reed to create a waving texture. She uses the Yoroke way to weave cloth that is special to her, because most of the string is vertical and straight but her works are curved. She has weaved cloth for over 20 years. The Waffle weave process creates a waffle like fabric using more than 4 shafts. Hogushi is a technique in which you first weave the cloth with a fine weft and then dye it.

Kasezomekasuri is where the yarn is dyed in the hank (graduated color or Tie dye). The length of the warp is a multiple of the length of the hank. To make her textiles, Yokoyama combines the different weaving and dyeing techniques. She also adds Kasuri, which are special patterns used to create patterns when she weaves cloth and it makes her works more unique and original. She calls it Yorokekasuri and Yorokehogusi. All of Yokoyama's textiles have a wonderful warp that comes from combing multiple techniques.

It takes a lot of time and effort to make one specific textile art. From choosing the material, dyeing yarn one by one, and weaving the cloth. However, there is a deep sense of satisfaction to get unique color from the dyeing. She is making works that radiate a sense of calmness with lively expression.

After graduating from Musashino Art University in Japan, Yukiko Yokoyama founded Yumeoribito, dye and weave studio, in 1977. Since then she has been creating her own textiles for more than 40 years. She has held numerous solo exhibitions in Japan such as gallery Sanchika, Gallery Kozuci, Gallery Papipupepo, Iwasaki Museum in Kobe, Japan and Ginza Tanaka Hall in Ginza Japan and more. Also as a founder of the weaving studio, she has held annual studio exhibitions for more than 30 years. Her tapestries are displayed at Osaka Royal Hotel, Oryx Blue Wave Dorm, Ikuta Shrine, and Green Alana Kobe Stadium.