When Matcha Meets Oolong: A Japanese-Taiwanese Joint Tea Ceremony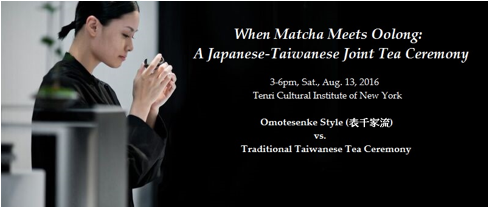 Tea, as the second most consumed drink in the world, has been enjoyed by people across the globe for thousands of years. Though different regions favors different types of tea and have their own interpretations of the drink, very few countries take it as seriously as Taiwan or Japan where intricate formal ceremonies exist for the preparation and consumption of tea.
"When Match Meets Oolong: A Japanese-Taiwanese Joint Tea Ceremony," is set to take place at Tenri's gallery on August 13, and will offer a rare opportunity for tea lovers to witness two different ceremonies practiced by professional tea masters from Japan and Taiwan. Apart from learning about the essence of Japan and Taiwan's tea culture, guests will also be able to taste different varieties of tea, as well as tea snacks.
            Japan: Ms. Keiko Kitazawa, Omotesenke Style (表千家流)
            Taiwan: Ms. Pan Ching-fang, traditional Taiwanese tea ceremony
For registration, please email to Ms. Kazuko Takizawa at ktakizawa@tenri.org. The first 30 guests to sign up for the event will receive a traditional clay tea cup made by Taiwan's noted tea ware maker Lin Ceramics Studio.