This site specific installation by Ga Hae Park consists of approximately 300 drawings and cut-outs set up in Tenri's monumental space to produce a frieze-like formation. Park's titles Musical Drawings reflect her subject of inspiration; music. Park's process involves translating sounds into visual harmonies of line, light and shade seen in her meticulous paintings and cut-outs. They are not literal analogies the likes of which we saw in the work of the early twentieth century American artist Max Weber or even the sensation packed teen images of Arthur Dove, Vasily Kandinsky. Park's paintings and cut outs although have the subject of music in common with these great artists, are different in intent, visual vocabulary as well as exhibition method.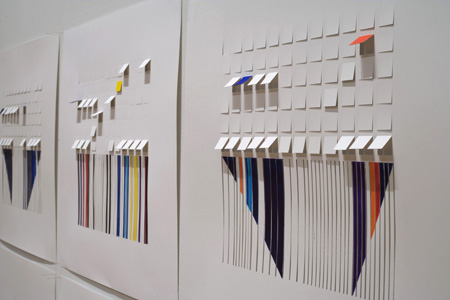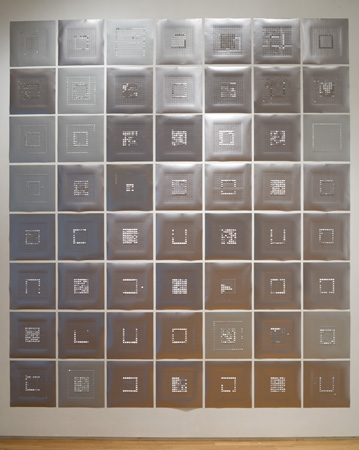 Park offers an entire environment that embraces the viewer as he enters the space transforming him into a protagonist in a play that is as much about music as it is about movement. Although painting is a static idiom, seen as a limitation by the early twentieth century modernists, Park has altered it into a rhythmical idiom through repetition and placement. Park's installations must be experienced in time and are diachronic rather than synchronic.

Park's pieces invite meditation, contemplation and prayer in their subdued meticulousness. The monochromous expanses of her grounds are juxtaposed against the subtle color of her lines and the cut out pieces that she's folded into patterns that can be analogized to music or even to Braille. These cut out areas cast shadows that work in tandem with the color and paper line to produce complex visual sounds. Park aptly describes her art making process when she says "Cutting paper is my meditation and my way of making art."

Park who earned her MFA from Pratt Institute in New York and her BFA from Hongik in Seoul has exhibited in many national and international venues since 1986. She has also enjoyed much critical acclaim in such platforms as Art in America, Art in Culture, the Brooklyn Rail, and Wolganmisool. Park has been awarded grants at the Pollock-Krasner Foundation, the Edward F. Albee Foundation and a residency at Art OMI. or the Tenri show Bjarnason incorporates his interest in space, light, and line that work in tandem to produce sensitive assays into dimensionality. His works on canvas or on paper synthesize drawing, printing and painting into the same work.

For More Information: Call or email the Exhibitions Director Dr. Thalia Vrachopoulos, 212-691-7978, thaliav@juno.com or the Administrative Director Michael Yuge at 212-645-2800, tci@tenri.org