Curated by Thalia Vrachopoulos, Ph. D., the exhibition focuses on the continued development of Rosenberg's work through large scale paintings, including the exploration of the human form in motion, its transitory states, and the synthesis of light, color, and dynamic structure. Rosenberg has explored the human form in motion for more than twenty years with a unique emphasis on dance. Working directly from figures in rehearsal or in improvised movement, he integrates the explosive energy of dance with the emotional intensity of action painting. His focus has included leading dance groups such as American Ballet Theatre, Dance Theater of Harlem, Mark Morris Dance Group, Bill T. Jones/Arnie Zane Dance Company and many others from the downtown dance world.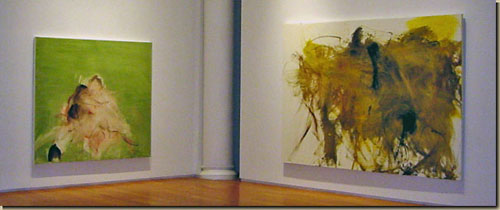 (Right) Rebecca (Stenn), 2005, Oil on linen, 78" x 110" (Left) Meredith & Matthew, 2006, Oil on canvas, 76" x 67"
Laban movement analyst Linda Nutter, Ph. D., CMA, writes, "Rosenberg draws dancers in the process of becoming the dance. His work communicates an intrinsic knowledge of the body – its manner of shaping itself to the environment, its spatial tensions and its dynamic potential. Rosenberg has developed a mode of sensing/rendering the dance in a way that reflects its essential characteristics." According to art historian Richard Kendall, "Fundamental to these encounters is the possibility of new pictorial experience, of pressing at the barriers of visual syntax and expanding the life of painting itself. Some of his completed images are almost shocking in their promiscuous life, bursting out of the constraints of familiar technique as well as the polite protocols of modernism."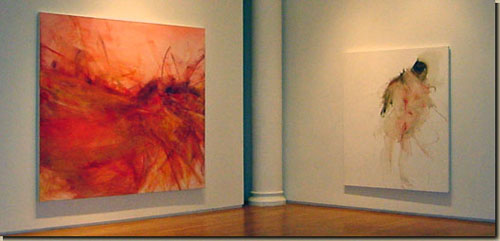 (Right) Metamorphoses, 2003, 16 x 16 x 1.5", Acrylic on wood (Left) Life begins in every second, 2003, 154 x 37 x 2.5", Woodcut on paper, Collection Pompei A.D.
Rosenberg's work has been exhibited at The Clocktower, Whitney Museum of American Art at Philip Morris, Museum of Modern Art, Frances Wolfson Art Gallery, Miami, Konsthallen Goteborg, Sweden, Albright Knox Art Gallery, Institute of Art and Urban Resources, BM Contemporary Art Center, Istanbul, Sao Paulo Bienal, Hayden Gallery at M.I.T., Queens Museum, Museo de Arte Contemporanio de Oaxaca, Bemis Center for Contemporary Arts, Mudima Fondazione per l'Arte Contemporanea, Milan. His work is in several museum collections including the Smithsonian American Art Museum, Fine Arts Museums of San Francisco, Brooklyn Museum of Art, and Graphische Sammlung Albertina, Vienna. Rosenberg lives and works in New York City.