PAST EXHIBITIONS

Angiola Churchill
Paradise Revisited
May 3 - June 12, 2004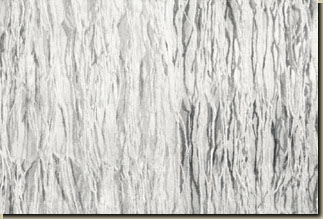 Angiola Churchill, Waterfall (detail) white tissue paper, 11 sections, each 20' x 40" 2004

The Tenri Cultural Institute proudly presents Angiola Churchill: Paradise Revisited, a site specific solo installation. Churchill can be described as a contemporary artist who works in the minimalist aesthetic of Eva Hesse and Richard Serra. Not only does she create site specific work that is monumental, but she dares to be irreverent in the placement of her ephemeral paper sculptures that also controvert traditional notions of permanence. Churchill has studied and earned degrees from the Tyler School of Fine Art at Temple University in Philadelphia, at Cooper Union, New York, and at the Teacher's College of Columbia University, where she earned her doctorate.

Churchill started her artistic career as a painter, and developed through cubism but left it behind in the early 70s to move onto the use of natural forms and installation sculpture. Around 1974, she restricted herself to neutral tones and created her first white paper installations, which have become her trademark. Her incorporation of modular constructions, serial repetitions and her use of the grid result in complex installation works. While her works are loaded with personal, symbolical and metaphorical significance, where all images and themes evolve from private mythologies, their meaning can only be captured intuitively.

Churchill is Professor Emeritus at New York University, where she was Head of the Department of Art and Art Professions for twelve years. Presently she is director of the N.Y.U. Studio Arts Masters Program in Venice, which she founded thirty years ago. She is also adjunct professor at Teacher's College in Columbia University. To this date Churchill has had 36 solo exhibits in the U.S.A. and abroad, 13 limited group shows and 25 large group shows, which include three international biennials and one triennial show. Among these shows, the most significant ones were in the Museo Fortuny (Venice, Italy), Palazzo dei Diamanti (Ferrara, Italy), Palazzo Ducale (Mantova, Italy), Museo de Arte y Diseno Contemporaneo (San José, Costa Rica), Lattuada Studio (Milan, Italy), Neuberger Museum (New York), Chelsea Art Museum (New York City); and three International Biennales: Lodz Museum (Lodz-Poland), Palazzo Bonaccossi (Ferrara, Italy), Museo Nacional de Bellas Artes (Buenos Aires, Argentina); and one International Triennale: Museo Nazionale Atestino, (Este (Pd), Italy).

| | | |
| --- | --- | --- |
| | | |
| Lake, 2003. Silkscreen, 39 1/4"x27 1/2" | | Seeds, 2004. Oil Stick on Glassine Paper, 8 sections 20'x36" each |
| | |
| --- | --- |
| | |
| | Brambles, 2004. Brown Oil Stick on Glassine paper, 10'x26.8" |

Symposium:
Angiola Churchill — Purity in Expression: Is there a Contradiction?

Casa Itaiana Zerilli-Marimo
24 West 12 Street
New York, N.Y. 10011
May 14th, 2004 4:30-5:30 P.M.

Sponsored by
Office of Program Development
New York University
Helen J. Kelly
Director of Special Programs

Program Director / Moderator:
Robert C. Morgan, Ph.D.
Professor, History and Theory of Art
Rochester Institute of Technology
Rochester, New York

Panel Participants:
Suzanne Anker, M.F.A.
Chair, History Department
School of Visual Arts
New York City

Judy Collischan, Ph.D.
Private Art Consultant
New York City

John Torreano, M.F.A.
Clinical Associate Professor,
Dept. of Art and Art Professions
New York University

Judith Schwartz, Ph.D.
Associate Professor, Dept. of Art and Art Professions
New York University

Thalia Vrachopoulos, Ph.D.
Assistant Professor, John Jay College of Criminal Justice
The City University of New York