Hiromitsu Morimoto
Recent Photographs

April 18th through May 14th, 2005
Opening Recption April 19th, 6-8pm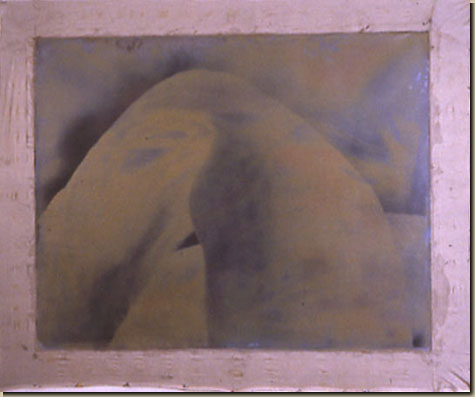 Bent Pepper - Photo-Emulsion on linen, 48"X60"
This series of recent photographs developed on linen evince Morimoto's ongoing engagement with shading values and close-ups. Morimoto seeks to capture nuances by choosing subjects photographed intimately that allow him to examine and experiment with their subtle play of shadow. Common objects such as white shirts, towels, sheets, or skin take on new meaning at the hand of this talent. Viewed only partially as fragment, what may actually be a pepper's fold can also be read as human anatomy. This multivalent allusion is one of the qualities that gives Morimoto's imagery its distinct style as well as riveting his viewer's attention. It is not easy to capture the delicate nuances of shading for not only must the artist's eye be able to distinguish these subtle changes in value but he must also have the technical capacity with which to depict them. Historically, it has only been the greatest of master's who have been talented enough to work successfully in this mode. Morimoto is one of them and Ingres was another. The latter often worked in grisaille because with this method that utilizes mostly black and white, he could exhibit not only his methodological virtuosity but could also stress the figure's outline as seen in his Metropolitan Museum Odalisque.
Morimoto arrived at his methodology through dedication, experimentation and downright natural ability. His medium silver gelatin liquid emulsion is usual enough, but his support, which consists of linen that due to its texture adds another dimension, is highly personal. This material evinces MorimotoÍs tactility as well as his commitment to the natural in every form. Recently he is allowing color to enter his traditionally black and white shades as well as incorporating an element of chance through the use of unstable emulsion. His blue or orange hues are the result of clearing the print with the fixer but leaving some of the milky liquid emulsion on the surface of the linen canvas. Since there is no way to control the color, Morimoto extols the serendipitous emergent outcomes of his technique that render each image unique. He feels liberated by allowing the process to happen instead of totally and completely controlling its outcome.
After having graduated from California State University at Long Beach with his MFA Morimoto moved to New York where he has been living and working. He has been given many solo shows internationally in places such as Zurich, Tokyo and Minnesota as well as having taken part in numerous group exhibitions at the Yokohama Museum of Contemporary Art, the Post Modern Photo at Chicago, the Alternative Museum, Westbeth Gallery, Fashion Institute of Technology Art Gallery, Automation Gallery in New York, Black, White and Color in Houston, Texas, at the Hong Kong Art Center, the Akron Art Institute and others in Tokyo, Bowling Green, Los Angeles. His work was also featured in the Sao Paulo Biennial of 1991 as well as in the 11th Biennial International in Tokyo.
Morimoto's works have been collected by the Museum of Modern Art in New York, the Baltimore Museum of Art, the Milwaukee Art Museum, the Museum of Fine Art at Houston, Texas as well as being part of a number of Japanese museums. His photography has also distinguished itself in the critiques of Peter Schjeldahl in the New York Times, John Gruen in the Soho Weekly News, Julia Scully in Modern Photography, Palmer Poroner in Artspeak, Patricia Johnson in the Houston Chronicle and many essays in the Print Collector's Newsletter.
Dr. Thalia Vrachopoulos
Curator and Director of Exhibitions Tenri Cultural Institute