Frolic: Humor and Mischief in New Taiwanese Art will bring a sense of fun with a touch of mischief to the fall art scene in New York City. The exhibition will open at three New York spaces in October, November, and December 2007. This exhibition, co-curated by Dr. Thalia Vrachopoulos, based in New York, and Jane Ingram Allen, based in Taiwan, features works in all media by 27 emerging Taiwanese artists.



Each gallery will highlight the works of different artists, including several site-specific installations to be created by some of the artists upon their arrival from Taiwan. The theme of this exhibition, humor and mischief, reflects one of the main qualities of contemporary Taiwanese art production. The sense of fun and mischievousness exhibited in the new Taiwanese art distinguishes it from others such as the Korean, which is much more serious in its tenor and themes. An example of an artist using these elements is Wenfu Yu, who deploys feathers with which to create environments that speak to the lighthearted child in all of us. They are light and fantastical configurations that arouse our instinctual desire to play, such as his Trees, 2007, (site specific installation, feathers and mixed media), done for the Taipei Gallery lobby. Another artist who uses humor in works that address both feminist and artistic issues is Agi Chen. This artist uses color discs in symbolic sequences that correspond to heroines known from popular culture, such as Winnie the Pooh, Sailormoon and the Powerpuff Girls, Mr. Incredible and Elastic Girl. Chen deconstructs the colors and by abstracting the characters to color circles, she reconstructs their meaning to reflect on issues of consumerism and regional preferences. Howard Chen groups little creatures that appear to invade the corners of the gallery, but who belie their innocent glittery appearance when observed in detail. The Babies, 2003 is a grouping of dolls and hearts composed of silver sequins and pins that juxtapose the quintessential baby with the dangerous object, the pin. This combination is grounded in the Dada spirit of exploring seemingly innocent constructs, (the baby, for example), while using irony to pun popular conceptions. It is these and 21 other artists' creative productions that give this show an edge that will contribute to the climate of its time and leave an indelible impression upon global audiences.

Dr. Thalia Vrachopoulos, known for her expertise on contemporary Asian art and for curating many exhibitions in this field, traveled to Taiwan in 2006. There she was introduced to the contemporary art scene of Taipei at such places as the Museum of Contemporary Art, VT Salon, Hua-shan Art Center, IT Park Gallery, and other alternative art spaces. She was impressed by the quality of the work, the fresh approach and sense of fun expressed by these artists and wanted to present this new work from Taiwan in New York. She approached the Taiwan Council for Cultural Affairs for support of the exhibition and teamed up with American artist and independent curator Jane Ingram Allen, who is based in Taiwan. Allen, an artist and independent curator and art critic, has been working in Taiwan since arriving there in January, 2004 with a Fulbright Scholar Award. During the three-plus years Allen has been living in Taiwan, she has met many young artists and worked in all parts of the country. Allen and Vrachopoulos have been working together to select the works for the exhibition and coordinate activities in Taiwan and New York City.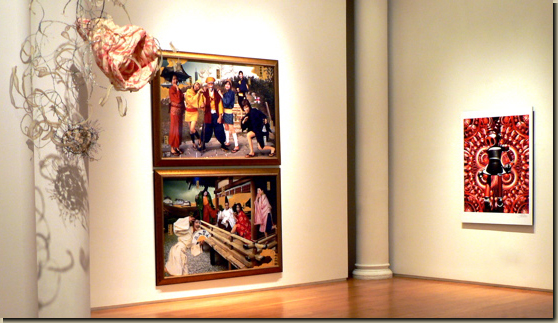 A fully illustrated catalogue of 78 pages will accompany the exhibition with essays by Jane Ingram Allen, Thalia Vrachopoulos and Jonathan Goodman. It will be available at all three galleries during the exhibition schedule.

The first part of the Frolic exhibitions will open at Tenri Cultural Institute Gallery, 43A West 13th Street, NYC 10011, 212-645-2800, on October 16th and run through November 21st.

The opening reception at Tenri Gallery will be Friday, October 19th, from 6-8 pm.

The artists include the following:

Shieng-nien Yang Video
Fay Ku Gouaches and drawings
Wan-ling Huang Ink and glue paintings on paper
Hui-chen Kuo Photographs/digital prints
Yu-an Liao Paintings on canvas
Ching-fong Lin Mixed media paintings on acrylic with neon lights
Ping-yu Pan Mixed media fabric sculptures
Wan-ting Su Photographs/digital prints
Jui-chung Yao Photographs/C prints
Wen-fu Yu Site-specific installation with feathers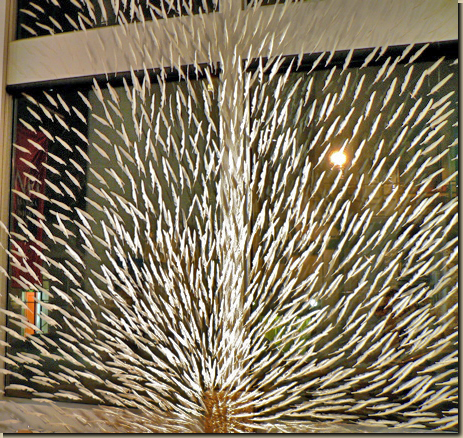 The second part of Frolic will open at 2x13 Gallery, Chelsea, 531 W. 26th St., 4th Floor, New York, NY 10001-5514, 212-563-3365 on October 5th and run through October 27th.

The opening reception at 2x13 Gallery will be Oct. 5th at 6-8 pm.

The artists and media in this part of the exhibition are listed below:

Charwei Tsai sculpture
Agi Chen Paintings/digital photographs
Howard Chen Mixed media sculptures with thumbtacks
Shih-chun Cheng Video
Tang-wei Hsu Site-specific mixed media installation
Ai-hua Hsia Japanese lacquerware sculpture
Lanya Huang Mixed media installation
Ya-chu Kang Suspended mixed media sculpture
Hung Yi Mixed media sculptures
Pei-ying Huang Mixes media sculptures

The third installment of the exhibition will open at Taipei Gallery, Taipei Cultural Center, 1 East 42nd Street, 7th Floor, New York, NY 10017, tel. 212-697-6188, on November 6th and run through Nov. 30th.

The opening reception at Taipei Gallery will be November 9th at 6-8 pm. Artists include:

Ching-yao Chen Photographs/digital prints
Meng-yeh Chou Video and mixed media sculptures
Wen-fu Yu Installation with bamboo and feathers
Yi-li Yeh Video
Meng-chuan Ho Photograph/C print
Chien-jung Lin Mixed media sculpture installation
Akibo Lee Animation prints
Tsai-rung He Photographs, digital prints
National Taiwan University Graduate Student Animation videos

For more information about this exhibition, please contact:
Dr. Thalia Vrachopoulos, Curator, thaliav@juno.com
Jane Ingram Allen, Curator, Email: info@janeingramallen.com
Josiane Lai at Josiane@tpecc.org