PAST EXHIBITIONS

She: Feminine Visions
by Taiwanese-American Artists
October 29 ~ November 24, 2009
Opening Reception: 10/30 (Fri.) 6 ~ 8 pm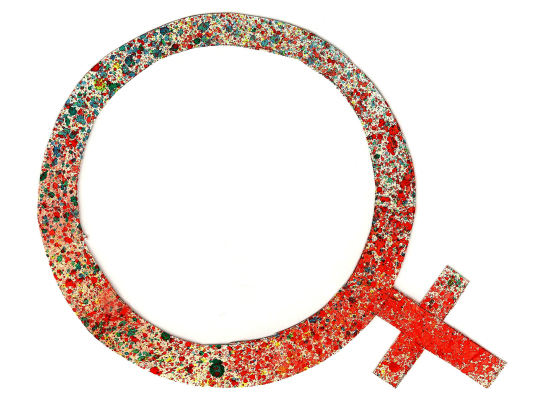 Tenri Cultural Institute in collaboration with Gallery Taipei (1 East 42nd Street, NYC) proudly present the exhibition She: Feminine Visions by Taiwanese-American Artists starting at Tenri from October 29 to November 24, 2009 with an opening reception on Friday, October 30, from 6-8 pm. The show will continue its breadth at Gallery Taipei from November 3 to 28, 2009 with an opening reception on Thursday November 5, 2009 from 6-8 pm. In further celebration of this show, a panel discussion will be hosted by Artists Talk on Art at the School of Visual Arts Theater (209 East 23rd Street, NYC) on Friday November 13, 2009 at 7:00 pm

As the title She suggests, this show features images of women by emerging Taiwanese American artists. The imagery created by male and female Taiwanese-American artists, is both complex and varied containing females both real and imagined. These artists of Taiwanese origin live in the United States and are working within a global market economy yet maintain an interest in their Taiwanese origins and social traditions. Such important issues as social hybridity arise from their search for identity and discovery of the multitudinous mix that defines modern Taiwanese society.

Fay Ku's oeuvre can be read in terms of Freudian dream theories but more aptly relates to women and Asian society. I-Hua Lee's photographs are about challenging popular conceptions of women and gender stereotypes and Hu Chi creates work inspired by Byzantine icons using these silver plated images as a way of empowering the female. Grace "Wawa" Yang investigates the interaction between the conscious and sub-conscious of young females while also exploring the existence and capacity of free-will. Wei-Hui Hsu's work contains inherent contradictions arising from her life experiences from which she creates spaces that act as membranes that separate her from the outside world. Hsiang-Ju Hung's photographs examine the real or imagined line that separates people while treating the subjective nature of the gaze that depends on viewpoint. Nien-nien Yang has become known for his videos although most recently his drawing skills are coming to the fore. His drawings of women as siren-like, sometimes convoluted creatures are somewhat shocking. In Symphony Hong Kai Wang depicts a maestro wildly gesticulating with his baton leading his orchestra to follow his tune much in the way that the common man follows rules without questioning them. Wan-Jin Tsai's Taiwanese background has taught her to revere those feminists who, having come before her, as seen in her works, gained much ground towards parity opening new vistas for younger women artists. Yen Hua Lee's photographic portraits of women are like palimpsests in their transparent layering. At times the layers are double women's portraits and at others lacy forms overlaying them. Aichen Lin uses installation and photography to establish relationships between people and spaces. Lin's Lipstick Project originally created in 2004 in video resulted in the photographs for this show depicting images of lips. Ming-Hua Lin probes the interstice between depicted image and reality by using prosaic objects from daily life. In her (Private) Photographs II, series she imagines and recreates fantastical situations. Mingchu Lin's painting deals with the ever-changing language of art. She depicts feminine forms or drops of paint that transmute and transform into each other becoming flat or three dimensional at will. Jian Jen Lin's photography and performance work explores the interaction of the body and mind, while exploring the contradictory interstices within human nature.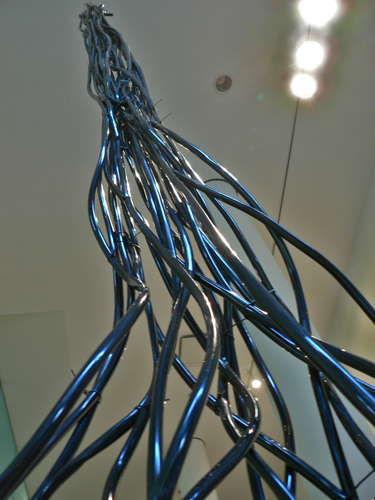 Jia-Jen, Untitled (Long Hair), 2009, 126 x 36 x 48 in, Vinyl tubing and cable tie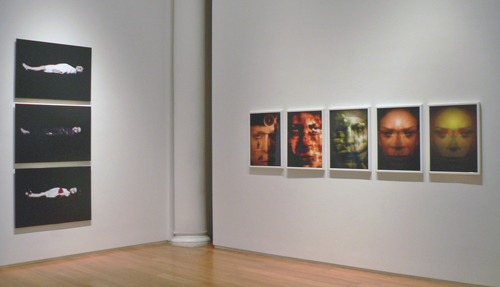 Left, top to bottom: Grace Yang, Untitled 3 (girl in white dress), 2007-8, 30 x 45 in, Digital C-print, Untitled 7 (girl in purple dress), 2007-8, 30 x 45 in, Digital C-print, Untitled 2 (girl in red hood), 2007-8, 30 x 45 in, Digital C-print
Right, from left: Yen-Hua Lee, Deposition Time, 2006, 23 x 30 in, Inkjet print, The Words Burn Inside Your Head, 2006, 23 x 30 in, Inkjet print, Struggle, 2006, 23 x 30 in, Inkjet print, In a Fog, 2006, 23 x 30 in, Inkjet print, Moment of Silence, 2006, 23 x 30 in, Inkjet print



Counter-clockwise from top right: I-hua Lee, In the Suit of a Man #3, 2007, 12 x 12 in, Inkjet print from negative, In the Suit of a Man #2, 2008, 12 x 12 in. Inkjet print from negatives, She series #8, 2007, 12 x 12 in, Inkjet print from negatives, She series #3, 2007, 12 x 12 in, Inkjet print from negatives




Hsiang-ju Hung and Chun-Hsian Ke, Between You and Me, 2008, 5 x 5 in each, Digital print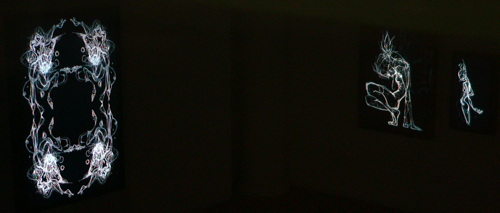 From right to left: Nien-nien Yang, Saya, 2009, 30 x 18 x 4.5 in, Duratrans, Custom acrylic lightbox; Sachi, 2009, 42 x 32 x 4.5 in, Duratrans, Custom acrylic lightbox; Tomiko, 2009, 66 x 45 x 4.5 in, Duratrans, Custom acrylic lightbox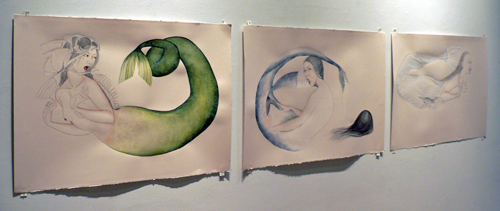 From right to left: Fay Ku, Spawn, 2009, 27.5 x 39 in, graphite, watercolor, ink. Japanese kozo on ivory paper; Inside Job, 2009, 27.5 x 39, graphite, watercolor, ink on ivory paper; Alarmed Mermaid, 2009, 27.5 x 39 in, graphite., watercolor, ink on ivory paper