"BY VIRTUE OR DESPITE OF..."
INTERNATIONAL ART ALLIANCE AND
UKRANIAN ARTISTS OF AMERICA (UAA)


November 16 - 22, 2021
Opening Reception: November 17, 6-8 pm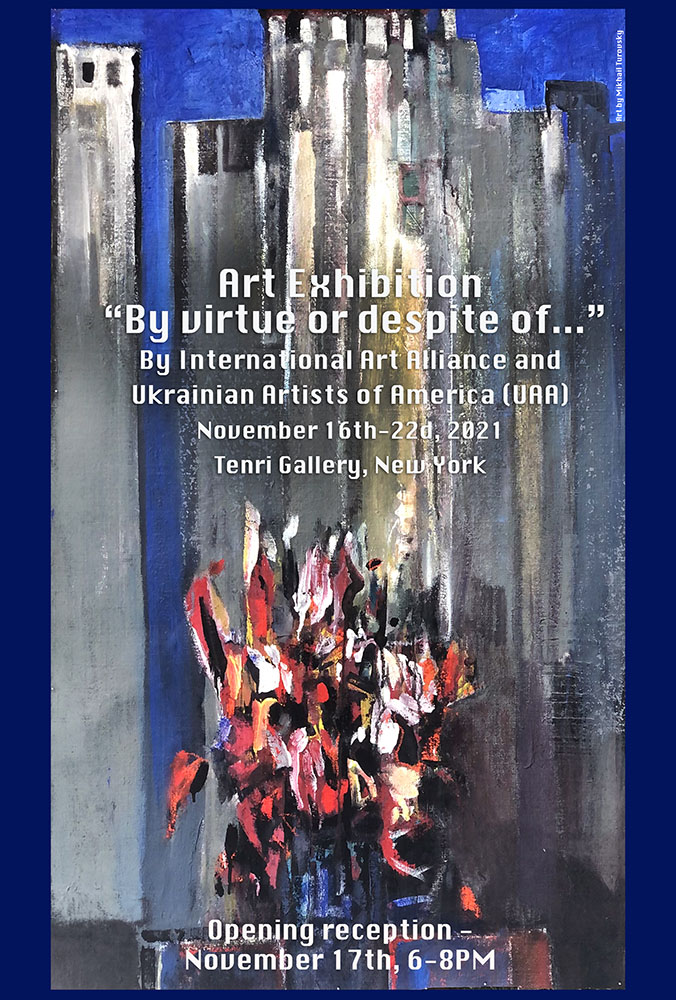 Despite what is happening in the world we think, make, and create. As artists we seek and find new meanings, generate new ideas, beauty, and harmony. We are Artists - We create art and that matters.
The first post-quarantine exhibition of International Art Alliance and Ukrainian Artists of America (UAA) has brought together the most interesting contemporary painters of America and Ukraine. The exposition "By virtue or despite of..." presents works by:
Mikhail Turovsky
Mikola Zhuravel
Elena Lezhen
Armine Bozhko
Ola Rodnyak
Miroslava Duzinkevych
We are expecting 2 more people to join us for the exhibition.
The participation of famous American Ukrainian painters, along with young and prospective new artists debuting in America, allows us to witness a spectrum of contemporary art development, in the context of succession of generations and preservation of individual identity in a display of multinational progression.
The artwork presented at the exhibition was created during 2020-2021 and the majority of the art will be presented for the first time. The exhibition provides a unique opportunity to become acquainted with art that was created in a period of isolation. The art was created despite of circumstances - in a period of uncertainty, anxiety, difficulties, and misfortune. Although many artists argued that the pandemic did not bring anything new to their daily routine, emotionally each of them went their own unique way and through themselves passed a shock of global scale. It may seem unexpected that the works created during this difficult period turned out to be not only daring and innovative but life-affirming and optimistic, which made it possible for the curators of the exhibition to form an exposition with a strong and passionate foundation.
Curator : Tatyana Borodina
International Art Alliance link:
http://alliance.elegantnewyork.com/