Rewards for Solitude
Amalia Piccinini
January 5-29, 2011
Opening Reception: Thursday, January 6th, 6-8 PM
Curated by Thalia Vrachopoulos, Exhibitions Director
Please click on the images to enlarge and double-click it to minimize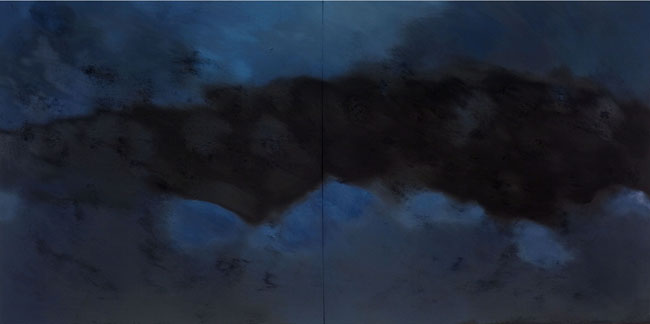 Piccinini's work is silent as the falling snow and subtle as a butterfly at landing. This artist's delicate aesthetic and touch distinguish her as one of the most articulate yet gentle of artists. She engages the monochrome as well as the abstract vocabulary. In the spirit of the great painters, Piccinini celebrates painting and has said "I feel so alive while painting, I create it and get lost in it….." She compares abstract painting to the mysteries of life and death as well as to the adventures about which she's dreamt.
Piccinini may paint abstract canvases but she's not merely a painter. She is a conceptual artist who thinks of her work as being in synchrony with the space, and who prefers environments to single canvases. She paints in subtle hues of similar shades, of blues and greens, that to a discerning viewer may be associated with landscapes but the reading is all his own for Piccinini doesn't mean to convey any particular object. Rather, she alludes to sensations that may be felt when being in the midst of her painted environments, sorrow, loneliness, or even joyous oneness.
Amalia Piccinini was born in 1974 in San Benedetto del Tronto, Italy, and studied painting at the Academy of Fine Arts, in Macerata City. She moved to New York in 2005 where she studied abstract painting at the Art Students League of New York. In 2008 she had her first of two solo shows in New York – Wearing the Silence, 2008 – and Rewards for Solitude, 2010 is her second solo show at the Tenri Cultural Institute of New York.