Circumnavigating the Globe
Bendel Hydes
Oct 1 ~ 28, 2010
Opening Reception: Friday, Oct 1, 6 ~ 8 pm
Curated by Thalia Vrachopoulos
Please click on the images to enlarge and double-click it to minimize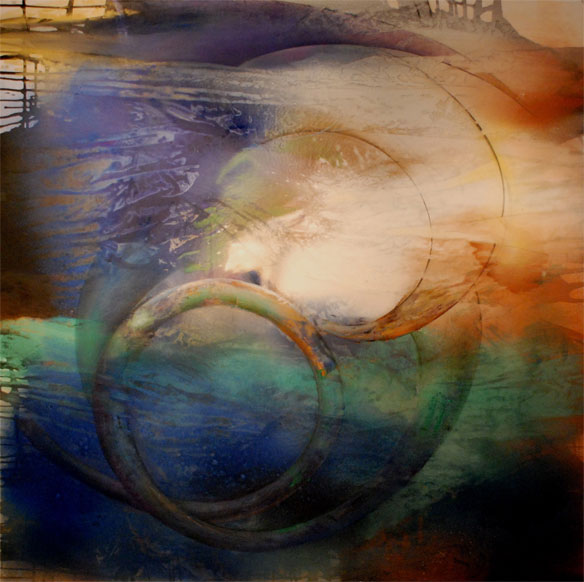 Bendel Hydes, VERITY OF OPPOSITES 150-180 degrees east Circumnavigating Series No. 9,
Oil on canvas, 78 x 78 ins. 2010
Bendel Hydes was born in 1952 in the Cayman Islands, a place that the American photojournalist David Douglas Duncan was prompted to call 'The Islands That Time Forgot.' In fact, the islands of Hydes' birth were not even on the world map until 1966. Technologically speaking, Caymanians wouldn't see a telephone until 1964, or a TV until 1977 but they could see with their naked eyes, the American warships approaching the Bay of Pigs in 1961. Today, these three tiny islands that pop up in the Caribbean between Cuba, Jamaica and Central America have one of the most advanced banking economies in the world.
After attending Liverpool and Canterbury Colleges of Art in England, and Clark University in Massachusetts, Hydes moved back to Cayman but returned to the U.S. in 1982, settling in the Tribeca section of lower Manhattan. Here, Hydes' world would change with the inescapable pressures of the 21st century, yet this new proximity to water in the rivers that surround Manhattan maintained a connection to a world he knew best. In fact, it was in his Manhattan studio that the emphasis in Hydes' life and work would move toward harmony and beauty.
Hydes' paintings, which are very nebulous in form and composition, are like emotional after images, while the surfaces of his canvases hold subtle tinges of disruptions such as brush hairs, undigested, dark paint spots in pools of color thinned in turpentine, or bits and pieces of debris that live temporarily in the New York City air until they alight in the drying oil paint. Yet, despite all of the impurities, all of the interference, the overall washes and veils of color would remain in harmony.
For this exhibition, the artist represents with color, symbol and expression the entire planet in twelve 30 degrees sections of longitude. The dozen paintings, which were executed over the past two years, move across the surface of the earth from -180 degrees west to +180 degrees east, serving as a metaphoric journey around the globe in a sailing vessel that could cover the entire latitudinal space at one time. As a result, land masses, cultures, current events and of course, water, blend together as a frothy, and at times, furious mix of color and texture.
In each work, there is an uncanny visceral effect marking this journey as a revelation. We are left to interpret the world through the filter of a person who has come full circle from a most pure way of thinking and living into the most complicated era that time has ever known. We are shown the cleansing power of our planet, even if we do so many things to destroy it. We understand this journey, and how much more important it is to feel and experience the world as we perceive it more deeply.