Crumbling Thoughts
Seung Wook Sim
October 7 - 27, 2011
Opening Reception: Friday, October 7th, 6-8 PM
Curated by Suechung Koh
Please click on the images to enlarge and double-click it to minimize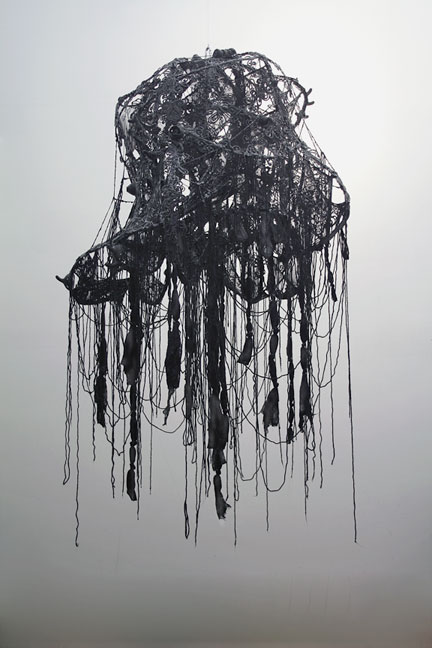 In his solo exhibition Sim will present Sculpture Installation relating to the character in his novel Mindset series, Chapter 6 that will be published in 2012. Through this installation Sim explores three things that are "The Invisible Within the Visible – A Dark and Uncanny Sublimity", "Reality, Isolated Environment – Exercising One's Imagination" and "Memories of Darkness, Uncanniness and Fiction, and Sublimity – The Ideal Point of Destination". At the intersection of reality and virtual information, in this article he extracts his past experiences and memories superimposing onto the environment the virtual object, that entity that doesn't exist in the real world. Like the real he expresses the illusion and also like the illusion he works to reconstruct reality. When visualized this wonder world touched by the emotions of others produces psychological reactions difficult to express.
Based on the information in Mindset Chapter 6, the Black Gravity series was visually de- and then reconstructed to result in repeated transformation. The simplest method becomes the most complex of tasks being transformed in the process. Sim wants to get away from the psychological fear and repression that was expressed. The abstract world of psychological terror and fear embodied by the evidence that is presented to us as is the extremely huge black object which is repeatedly distorted into a free form. The fictional world is represented by the exclusion of color because although we dream in black and white we perceive our dreams as being in color resulting from the potential of our imagination. The black object further amplifies our imagination. Using only black melted hot glue and paper Sim achieves a well balanced work that exactly represents an unstable world and the psychological stress from the Modern. Is it possible to find a stable peace from a huge black object?
Sim was born in Seoul earning both a BFA and MFA in Sculpture at HongIk University and after graduating he moved to Chicago where he earned a second MFA in Sculpture at The School of the Art Institute of Chicago. His work has been exhibited all over the world in such venues as Saatchi Gallery in London, Amelie A. Wallace Gallery in NY, Kwangju Museum of Art in Kwangju, S. Korea, the Teapot Gallery for Contemporary Art in Germany and several art fairs and biennials. Sim did a residency at the International Studio & Curatorial program (ISCP) in 2010.