Illusive Dimensions
Jena H Kim & Jong Il Ma
Aug 6 ~ Sep 8, 2010
Opening Reception: Friday, Aug 6, 6 ~ 8 pm
Curated by Sisun Song
Thalia Vrachopoulos, Exhibitions Director
Please click on the images to enlarge and double-click it to minimize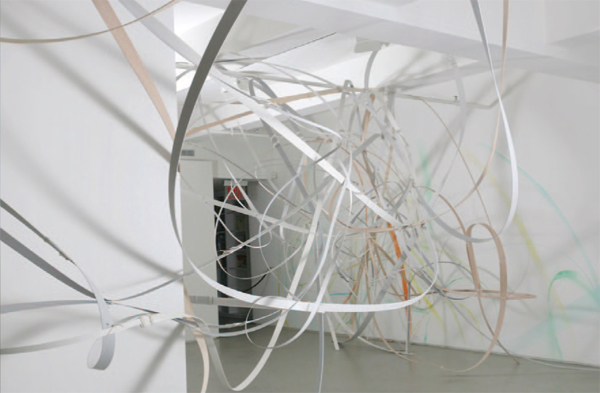 Jong Il Ma, You See, I Just Wanted to Talk About It. (2008) Wood, Rope and Paint, 40'x20'x10'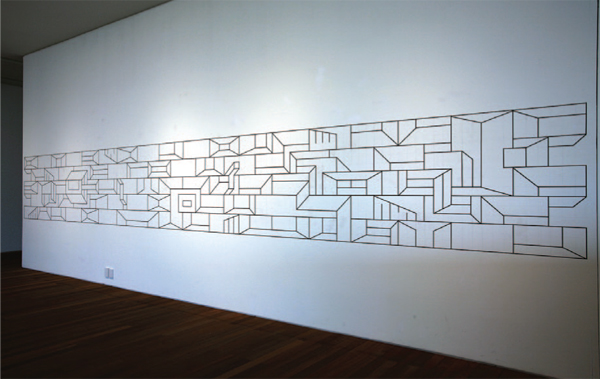 Jena H Kim, How to Fit (2009) Tape on Wall, 330"x104"
"Illusive Dimensions" features two artists who use lines to add new dimensions to existing space. Jena H Kim and Jongil Ma create line is animated; living and breathing. The combination of varied curved, straight, thick, and thin lines generates surface and space that simultaneously transform into abstract illusions with physical properties that engage the viewer. Using line, the artists create precise geometric structures that transform into abstract illusions and that through harmonious interplay result in sensual motifs that call for myriad interpretation.
Jena H Kim's site-specific painting-installation uses line created out of simple black tape. Through her three-dimensional geometric forms that are precisely calculated and exaggerated into perspective drawings, her work expresses fictional structures and spaces, which would be almost impossible in real architecture. She generates the effect of trickery to playfully deconstruct the absolute rules of architecture thus creating her own interpretation of space.
Born in Seoul, Korea, Kim received her MFA in Fine Arts at the Yale School of Art in 2000 and a BFA from Cooper Union School of Art in 1998. She is a resident artist and received a Studio Fellowship from The Elizabeth Foundation for the Arts in 2009, and a Smack Mellon grant in 2007. She won the 8th KAFA Award and the 1st Han Yongjin Art Award in 2004. She has participated in many group exhibitions including the Queens International: Queens Museum of Art, Weight as Real: The Queens Council of the Arts, LIC, Boxes: Korean Cultural Center Los Angeles, CA, Starting at The Edge: Mushroom Arts NY, New York 9 + one: Cais Gallery, Seoul, Korea, Notion of Framing: Void Gallery, Seoul, Korea, Three Persons Show at the Paik Hae Young Gallery, Seoul, Korea.
Jongil Ma's site-specific three-dimensional drawing creates a type of realistic structure based on precise architectural calculation. The pastel-colored wooden stripes woven together in curves contained within a space resemble a living organism that peregrinates, moves, grows, changes and might be might be paralleled to society and its multi-level complex relationships. Ma's interweaving, interconnecting structures can also be associated with the artist's personal past and present struggles in making his way in society.
Ma received a BFA from the School of Visual Arts in 2002. He has participated in public art projects sponsored by the Ministry of Culture & Tourism of Korea in Kwangju and Damyang, respectively. He had a solo exhibition at Roger Smith Hotel Gallery in Manhattan and is participating in Jamaica Flux: Workspaces & Windows at Jamaica Center for Arts & Learning in Queens. His work has been featured in international exhibitions including the 2009 International Incheon Women Artist's Biennale in Korea and he will be participating in the upcoming Lodz Biennale 2010 in Poland. His awards include the INC Visual Arts Award from the AHL Foundation and a Fellowship from Socrates Sculpture Park.
To view photos from the exhibit, please click on the following photo. You can also use the arrow keys for navigation.